Leica Q3 Review | A Highly Desirable Update
Dive into our comprehensive Leica Q3 review, highlighting its standout features, performance, and how it compares to its predecessor.
Announced in May 2023, the LEICA Q3 sits uniquely positioned within the camera market.
It is one of the few full-frame fixed lens compacts equipped with a top-tier Leica Summilux lens.
Highly Recommended
Leica Q3 Review
Overpriced but highly desirable minimalist full frame camera producing detailed images in glorious Leica colors, now with a tilt screen and improved battery life.
Check Current Price
Some may say the Leica Q3 is an incremental upgrade from the Leica Q2
However, as someone who has been reviewing most of Leica's recent releases and extensively using the Leica Q and Q2, I can confidently say that the differences that matter to the photographer are actually mainly under the hood.
In fact, I see Leica keeping what made the Q series great while improving in the areas photographers requested.
Changes include a new 60-megapixel sensor, Maestro IV processor, USB-C charging, and yes, the much-requested tilt-screen.
Comparatively, other camera makers have released successor models with much smaller differences.
Let us take a deeper look at the Leica Q3 in this review.
Leica Q3 Specs
Pros
Top-of-class full-frame sensor with Triple resolution technology
Powerful Maestro IV processor that even the Leica M11 does not have
Gains phase detection in auto-focus
Useful built-in close-focusing mode and manual focusing clutch on the lens barrel
Excellent implementation of manual mode with well-designed controls
Robust quality build with IP52-rated weather and dust resistance.
Tilt touch LCD with a gorgeous EVF
8k at 30fps and 4k at 60fps video recording
Cons
 Costly at close to USD6000 (well, it is a Leica)
 Leica Looks filters function is still in its infancy
 No internal memory
60MP full-frame sensor with Triple resolution technology (18/36/60 Megapixels)
28mm ƒ1.7 Summilux stabilized lens with integrated close-focusing mode (focusing up to 17cm)
Digital crop to 35, 50, 70, and 90mm (39, 19, 8, and 6MP)
5.76M dot OLED EVF with 0.79x magnification, 3″ tilt touchscreen LCD with 1.8 million dots
Native ISO range of 50 to 100,000
Shutter speeds of 120sec to 1/2000sec using the in-lens mechanical shutter, extending to 1/16,000sec using the electronic shutter.
Hybrid autofocus (PDAF + contrast AF with new intelligent subject recognition)
8K video capture in UHD or DCI ratios up to 30p (H.265)
AI-assisted perspective control and dynamic range tools for JPEG mode
IP52-rated dust and weather-resistant with minimal openings such as the SD card slot.
Build & Appearance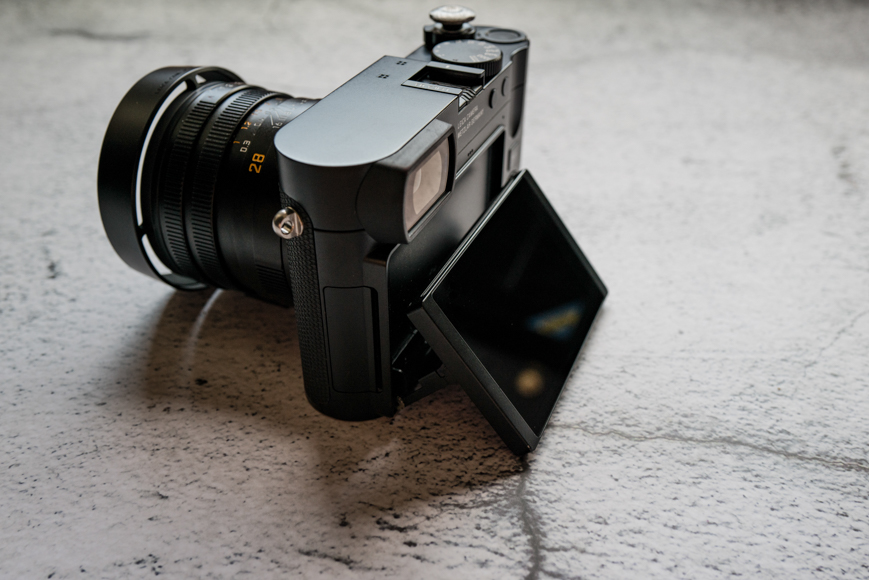 The design DNA of the Leica Q3 has held consistent over its three generations, with each generation building on the last with a slew of practical improvements.
The Leica Q3 sports an instantly recognizable minimalistic all-black ensemble topped with a Leica red dot on its body with IPX5 rated weather sealing.
As anyone using Leica will have come to expect of the brand, the build is top-notch, with every detail obsessed over.
Every lettering is etched in and painted to last; the lens barrel and the shutter speed dial are great examples.
The engineering behind the Q series is so precise that every single hood will only fully lock in the 'fully upright position' with the LEICA CAMERA WETZLAR letterings perfectly balanced – not a bit more, and never a bit less.
Ergonomics & Handling
One seldom-mentioned improvement in the handling department is that with the buttons now shifted to the same side, one-handed operation of the Leica Q3 is now possible.
This is an experience-changing design change, especially for street photography, where one-handed operation helps keep one more discreet.
One huge improvement though technically simplistic, is the inclusion of USB-C charging, and the Leica Q3 finally brings this to the table.
Leica probably finally solved the issue of an exposed USB C port causing weather sealing issues, and I am glad to have this option now.
Part of the Leica experience is that it allows one to focus on the process of photo-creation with minimal fiddling of buttons.
The menu and the buttons' placement are precisely where one would expect them to be.
When a fellow reviewer questioned why the Leica Q3 comes with even fewer buttons than the Leica Q2 or Leica Q, I answered that this is exactly how Leica can make its users pay more while being satisfied.
The tilt-screen is a welcome addition to the Leica Q range, allowing you to shoot from the hip or compose above your head.
This is extremely useful for candid street photography, and I'm sure there'll be plenty of other uses for it.
One small niggle is that the screen can only be pulled out by gripping its bottom – there's nothing on the side that allows you to maneuver it, as is more often the case with other cameras with tilt screens.
However, once you've got used to the movement, muscle memory takes over, and the robust and precise engineering in the tilt itself makes up for it.
Focus Performance
The Leica Q3 is not only significantly faster than its predecessor, but it also sports an overhauled autofocus algorithm system.
Subject tracking is now remarkably much more reliable, and of course, having phase detection leads to even better continuous autofocus.
This allows the Leica Q3 to bridge over from a primary stills camera in its first generation to a video-capable camera.
For example, a new AF mode, "Intelligent AF" is Leica's first foray into harnessing artificial intelligence in subject recognition.
It worked much better than expected, activating fast and, in most occasions, able to keep tack sharp focus.
Low Light Performance
Combining the new sensor (with the Q series) and the Maestro IV processor with a fast 28mm lens works well in resolving potential issues with low-light photography.
In low-light situations, where the Leica Q2 or Leica Q would have missed the focus, the Leica Q3 easily found the subject with its new focusing capabilities.
Together with a full-frame sensor found in the Leica M11, noise management was excellent.
Image Quality
The Leica Q3 camera sports an excellent 28mm focal length with its 28mm ƒ1.7 Summilux optics.
Of course, one might balk at the fixed focal length, but note that an M-mount 28mm ƒ1.4 Summilux retails at US7795, higher than the cost of the entire Leica Q3 camera.
Rolling shutter is non-existent, and images are well-defined, balancing sharpness and quality bokeh with a pleasant transition between focused and out-of-focused areas.
It is important to note that I primarily work with Leica cameras with their DNG raw files simply because they are plentiful in their potential, and I genuinely feel it is a waste to skip them for the JPEGs.
Overall Performance
Leica equipment comes in a class of its own, starting from their rangefinder M system to the Q system, and the Leica Q3 is undoubtedly able to tick off most of the boxes for most photographers.
With the brand's tendency to over-engineer everything from the even higher resolution viewfinder to how the rear screen tilts and closes, few fixed lens cameras can count as competition.
The camera starts up fast, with excellent battery life, even though now it is equipped with a power-hungrier autofocus system.
The Leica FOTOS app also works very well, in fact, with the recent firmware update, allowing even earlier access to updates versus Leica's websites.
Other Useful Features
Perspective correction, a handy feature from the Leica M11 and newer M10 series models, is also now available on the Leica Q3, allowing one a handy in-camera tool to align converging/diverging verticals.
While the Leica Q3 does not support interchangeable lenses, the crop modes on the Leica Q3 give one plenty of room to work with.
I don't use the in-camera crop modes, but I can imagine this being useful to other photographers wanting more variety out of the fixed focal length.
Of course, one can consider the usual accessories set, like the wireless charging capable hand grip, thumb rest, or the hood and the shutter button in a matching set.
My honest opinion is to get the thumb rest which is necessary for better stability, while the rest are probably just 'good to have'.
How I Tested the Leica Q3
For review purposes, testing the Leica Q3 was as simple as we all do – take it out for a photo walk.
In this review case, I spent a few hours testing it on the streets of Hong Kong.
During the walk, I also tried on multiple occasions to connect the Leica Q3 to its FOTOs app through wi-fi and Bluetooth options, and the connection never failed me once for photo transfers.
Alternatives to Leica Q3
As mentioned, there is little competition from other cameras.
The Sony RX1 series would be if Sony didn't kill off the series, and the Zeiss ZX1 was, unfortunately a dead-on-arrival option.
If sensor size is not an issue, one can consider Fujifilm's X100V or Ricoh's GR III, but these two great cameras, with their cult following, will not match Leica's Q3's balance of optical and performance prowess.
Leica Q2 vs Leica Q3
When considering a camera, it is natural to compare the predecessor. Currently, the Leica Q2 is a close competitor to the Leica Q3.
However, in my opinion, the Leica Q3 is the better choice due to its new sensor, improved imaging processor, tilt-screen, and USB-C options.
While it may cost more, you will get better performance for your investment.
Additionally, Leica has committed to providing firmware updates for this model for several years, ensuring that you get the most out of your purchase.
Here's a table comparing the key features of the Leica Q3 and Leica Q2:
| Feature | Leica Q3 | Leica Q2 |
| --- | --- | --- |
| Announcement Date | 2023-05-25 | 2019-03-07 |
| Sensor | 60MP – Full frame BSI-CMOS Sensor | 47MP – Full frame CMOS Sensor |
| Anti-aliasing (AA) filter | No | No |
| ISO Range | 50 – 100000 | 100 – 100000 |
| Lens | 28 mm f1.70 Prime Lens | 28 mm f1.70 Prime Lens |
| Optical Image Stabilization | Yes | Yes |
| Screen | 3.00″ Tilting Screen | 3.00″ Fixed Type Screen |
| Electronic viewfinder | 5760k dot | 3680k dot |
| Continuous shooting | 15.0fps | 20.0fps |
| Video resolution | 8K – 8192 x 4320 | 4K (DCI) – 4096 x 2160 |
| High-Speed Video | 120fps | Not mentioned |
| Wireless | Built-in | Built-in |
| Weight | 743g | 734g |
| Dimensions (W x H x D) | 130 x 80 x 93 mm | 130 x 80 x 92 mm |
| Weather-sealed Body Rating | IP52 Rated | IP52 Rated |
| Replaced Model | Leica Q2 | Leica Q-P |
Value for Money
Mention Leica equipment, and most photographers will likely worry/complain/ponder about the price next, but that is not the right way.
Firstly, there are more expensive options from Hasselblad or Phase One to start with, and a look across also shows that prices have crept up quietly for most other brands.
The Leica Q3 lives in a market segment with no real competitors, the premium fixed-lens full-frame camera segment.
This alone makes it unique, and for the photographers who know, the Leica Q3 is plenty of value for money.
Leica Q3 FAQ's
Is Leica Q3 worth the money?
Yes, this is especially true if one is already invested in the M11 and wishes for consistency across the images shot across the systems since they now share the same sensor. Another way to look at it is to consider that buying just the lens that comes permanently attached to the Q3 would cost more than the Q3.
Why would anyone buy a Leica?
Some would say G.A.S. or maybe as a flex, but I will say let's grow up, and this is because we appreciate what Leica can provide. One has to try to know.
Why do people like Leica cameras so much?
With the minimalist controls, the high-quality build, and top-notch optics in a generally always beautiful design, there are very few things to dislike about Leica cameras.
Do Leica cameras hold their value?
Leica cameras hold their value pretty well, even across years. I would not consider a Leica camera an investment, but this is certainly an advantage.
Leica Q3 Review | Conclusion
The Leica Q3 takes the concept of the compact camera and brings it to the performance extreme.
If one looks at the one camera to invest in for pure simplicity equipment-wise, the Leica Q3 will be among the top contenders.
If in doubt, I will always suggest you pop by the local Leica store and request a test drive while bringing your SD card after that fair bit of test run. (you probably will want the files back)
All in all, even though the Leica Q3 may look physically identical to the much-loved Leica Q2, it is a new camera nested beneath its shell, and this is a camera hard to not recommend to anyone.
Highly Recommended
Leica Q3 Review
Overpriced but highly desirable minimalist full frame camera producing detailed images in glorious Leica colors, now with a tilt screen and improved battery life.
Check Current Price